Attify Security Pvt Ltd
Exploiting BLE Smart Bulb Security using the BTLEjuice framework.
BtleJuice is a framework to performing a Man-in-the-Middle (MiTM) attack on BLE devices.BtleJuice is composed of two components - an interception proxy and a core. These two components are required to run separately on two systems each having a Bluetooth 4.0+ adapter attached. Rather than using two separate physical machines, we have used the one physical machine and another Virtual Machine(VM) running on the same host. One of the adapters will be attached to the host and the other to the VM. We have exported the captured data to a file and analyze that.
Indian Institute of Technology, Mandi
A point of care testing device for measuring urine albumin using a novel organic dye.
The current medical diagnostics industry in India operates on a decentralized model, requiring patients to undergo a multi-step process to obtain test results. This results in a large time delay between the acquisition of a urine sample and the delivery of results to the patient, and an additional patient visit to obtain the test results and reducing patient compliance. This is especially concern in rural areas, where patients live long distances from clinics. The aim of this project is to decentralize testing by developing a point-of-care testing device that can be used in a local clinic.

Indian Institute of Technology, Indore
Developing a social network of industrial assets to enable smart decision making.
The technology developed in this project involves multiple engineering domains. The project is based on Industry 4.0, which involves application of cyber physical system (CPS), Industrial IoT and Computer Optimization. The idea of this project was to include these three concepts to create a system capable of remote monitoring of machines and intelligent planning of the production chains autonomously. The autonomy of the system is the key of the project as it represents the interaction of the real and virtual world in manufacturing, along with 'decentralized intelligence' to create a perpetual intelligent network of machines. In simple terms, when a machine finishes its job, it communicates with the machines down-the-line in the chain to instructor inform them about what exactly has to be done next, without external human interference. With the advancement of internet technology e-manufacturing, e-commerce, e-procurement, etc. have already became a reality and this project has given a motivation to more extended concept called "Smart Manufacturing' where people will want to browse, customize,order, and run the factories to get their products made by themselves.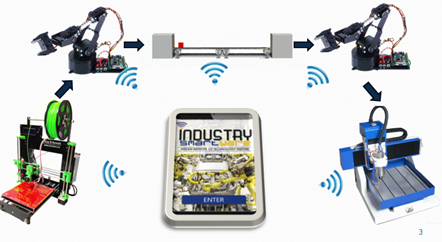 Design a Social Network based system of 3D Printer Machine for generalized group-based communication between industrial assets
A social network indicates a relationship between people or organizations and how they are connected through social familiarities. So similar our project is also based on social networking concept (like Google+ Circles, Facebook, WhatsApp etc.) Simply put, this means various machines, products, raw materials will 'talk' (by tweeting) to each other for a cause (decision making). For implementing this idea we have designed user interface of login page and machine profile using java When machine entered log of text such as User ID and passwords then login option sends the request in SQL database using jQuery_ If the machine is registered in database then it's allow the machine to show its personal profile. And personal profile indicates about the machine information like when machine has purchase, where it has purchase etc. and also machine automatically snatch the photos of live events and share with other machine profile and also store in database. Group indicates a when groups will be formed; what groups will be formed, what information would be shared by machines, when it will be shared,etc So each and every machines interact with each other through chat box using M2M connectivity.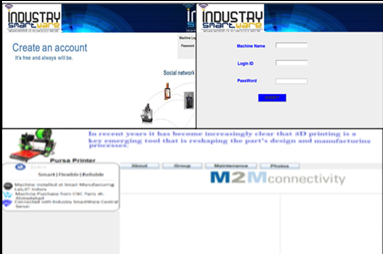 Edge Medical Devices Pvt Ltd, Delhi
IR based optoelectronic device for measuring displacement and timer Circuits
The techniques involve in this project Intensity based sensing for measuring a distance between the light source and a detector; in which the light intensity reflected from the object onto the detector (device) and also device senses the light source and automatically rotate the servo motor with respect to 90 degree angle (as defined in coding).lf there is any interpretation in the signal intensity will be change distance. The two IR sensor used in this device for detecting the light source.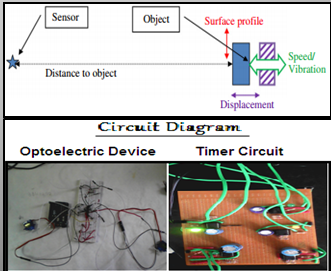 Department of Science & Technology, Delhi
Monitoring the health of UAV in Ground Computer using Mission Planner
The goal of this project is to basically develop the communication system of the UAV to the Ground Slation; Commonly known as Telemetry which basically sends real-time data like Altitude; Attitude; Battery Health; etc to the Ground Computer. For established the communication system we have used two XBee radios (one for the ground station and one for the vehicle) and one is connected with ground station computer and another one which can be connected to the flight controller (pixhawk).After successfully established the communication we have analyzed the data in Mission Planner software using various experimental observation and monitor the condition of UAV.